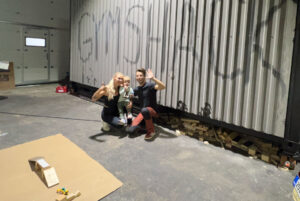 We are a growing family business, and we love an active lifestyle and strength training and value quality time with our family and friends. All three family members have been involved in Gymmic's product development.
Henrik – having previously planned and developed dozens of MyFitness and Gym! sports clubs all over the Baltics – had an idea of creating his own microgym – Gymmic
Laura -personal trainer, certified and loved by clients. An integral part of her life is the workout and an active lifestyle.
Hermes, Henrik's and Laura's son – since birth, he has had to accompany his parents in training and can now demonstrate quite a few exercises with dumbbells and other equipment.
The problem of the family of fitness enthusiasts was that there was often no time to go to the fitness club, and it was also not possible to take the child with them. The dream of their own home gym has always existed in their minds. But how to resolve the desire to build one's own home gym if it has not been taken into account in the architectural solution in advance or if you do not have a free space suitable for a home gym?  And so GYMMIC was born.
Gymmic is a microgym in your own homeyard tailored to your needs – created for people who value privacy and comfort.
Thanks to Gymmic, you have the opportunity to train in a well-equipped gym without leaving your home, thus saving the time and energy required for driving.
We have created Gymmics in shipping containers because it is simultaneously stylish and strong, and if necessary, you can easily take your Gymmic to a new location of your choice.
All of our micro-gyms have high-quality fittings and a well-thought-out layout.
Gymmic's solutions are approved by recognized personal trainers.
Our goal is to create versatile gym solutions, offering already developed ready-made solutions, as well as special solutions. We approach each of our clients personally so that we can offer you the microgym of your dreams in your own homeyard.
If you feel that your yard is missing exactly one Gymmic, let us know, and we'll talk about it in more detail!